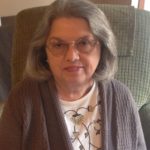 Carol Grimes joined our Board of Directors in 2016. Carol grew up in the Blue Ridge Mountains in Marion, VA, as part of a large family. She was always fascinated with the beauty and wonder of nature and creation and found her answer in God as the creator.
At an early age, Carol knew there was something special about church, attending whenever the doors were open. God surrounded her with the most loving and kind people to whom God and Jesus were real, which influenced her career path later in life.
As an adult, Carol discovered her calling to teaching. She  has been blessed to teach K-12 grades in public and Christian schools. She knows God was there for her every day. When asked "What is your favorite past time or hobby?" Carol responds without hesitation "Studying God's word, sharing His love and mercy and helping a brother or sister."
Carol serves Him with Promised Land Praise and Worship Center in Fredericksburg, VA.