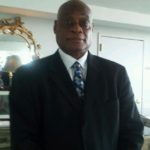 Wilfred Usher was born and grew up in Washington, DC – a product of Christian education from middle school through college. He is a graduate of Andrews University in Berren Springs, Michigan.
Wilfred resides in Fredericksburg, Virginia with his lovely wife, Mary C. Usher – a godly, beautiful, gifted Southern woman.  They have two sons, John and Christopher, and three grandsons – Defontis, Christian, and Langston.
He is a Certified Real Estate Investigator (CREI) with the DC Department of Consumer Regulatory Affairs and lead investigator for the DC Real Estate Commission and The DC Board of Real Estate Appraisers.  He has 32 years of experience.
Currently, he serves as the First Elder at Marantha Seventh Day Adventist Church.  He says he serves only through the wisdom from the Holy Spirit (1 Corinthians 2: 1-14) and has no power or gifts or knowledge except those granted unto him by God and empowered through the Holy Spirit.