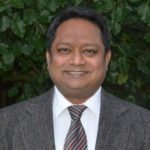 Zaccheaus Katta is a Chaplain at VCU, with a special focus on the patients of Bone Marrow Transplant, Brain Injury, and Rehabilitation. As part of providing pastoral care in the hospital setting, Zacc conducts activities of Art & Spiritual for the rehabilitation patients.
Earlier, he worked as a chaplain at Westminster Canterbury, Richmond for dementia residents. Zacc apart from holding a BA in Political Science and an M.A. in Philosophy from Osmania University, India, he holds an M. Div., from United Theological College, Bangalore, India and a diploma in social administration.
Before migrating to the USA in 2015, Zacc served as a parish senior minister for twenty years in the Diocese of Medak, Church of South India (a union church of Episcopal; Methodist and Presbyterian). While he was pursuing BM, he served as regional secretary for the union of evangelical students of India, Hyderabad and while serving as a parish minister, he was the director of diocesan youth ministries, district secretary of professional education, convener for communication, liturgy and literature committee.
Zacc is a visual artist, wooden sculptor, stain glass artist, and photographer. With over 20 successful group and solo exhibitions under his belt, Zacc is a seasoned artist in secular and theological spectrums and uses his gift of art as a tool for proving care to the patients. He focuses on sensual and emotional nature of art, striving to depict the social and theological sensitivity of human life and suffering transmitting through valid experiences in a combination of color, texture, and symbolism as an act of encountering the divine and proving care to the suffering. Zacc received the National Art Program award at VCU, in 2016 and 2018.