Family Fun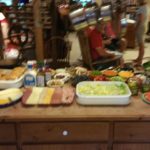 Early on in the life of HOPE3 Ministries, we realized that many folks aim to provide good, Christian fun for their families. And in rural Virginia, that is not always easy to do. Out of this need grew Family Fun, a monthly event hosted at Peaceful Point Farm.
When we held the first Family Fun event in August 2012, there were 12 participants in attendance. Little did we know that that number would quadruple four years later, when attendance at December 2016's Family Fun was 46. In July 2019, we had 52 folks in attendance, 15 of whom were first-time attendees.
The event always kicks off at 5:30 PM with a delicious home-cooked meal, which is followed by a wholesome and fun activity. Over the years, we have gone to the Virginia State Fair, watched Christian movies, gone snow tubing, and even held a summer "Olympic" septuathon. In December each year, we play a Christmas gift exchange game and everyone gets to go home with a present! Thanks to a large in-kind donation of 40+ gifts, which are lovingly wrapped, we are able to offer this experience at no cost to our participants. This is always a special event and a favorite among those who attend.
For where two or three gather in my name, there am I with them." ~ Matthew 18:20
In past months, the activities have included fill in the cartoon bubbles; activities related to ask, seek, knock; watching the Legend of the Three Trees; Bible Science (our summer series); Think Thank You; and rubber ducky races. Total attendance in 2016 was 251, many of whom are "regulars." Not counting repeats, there were 73 individual participants. And of those 73, 32 were under the age of 18.
The fellowship we experience each month enriches the lives of so many, and we look forward to seeing what 2019 has in store for this growing ministry.